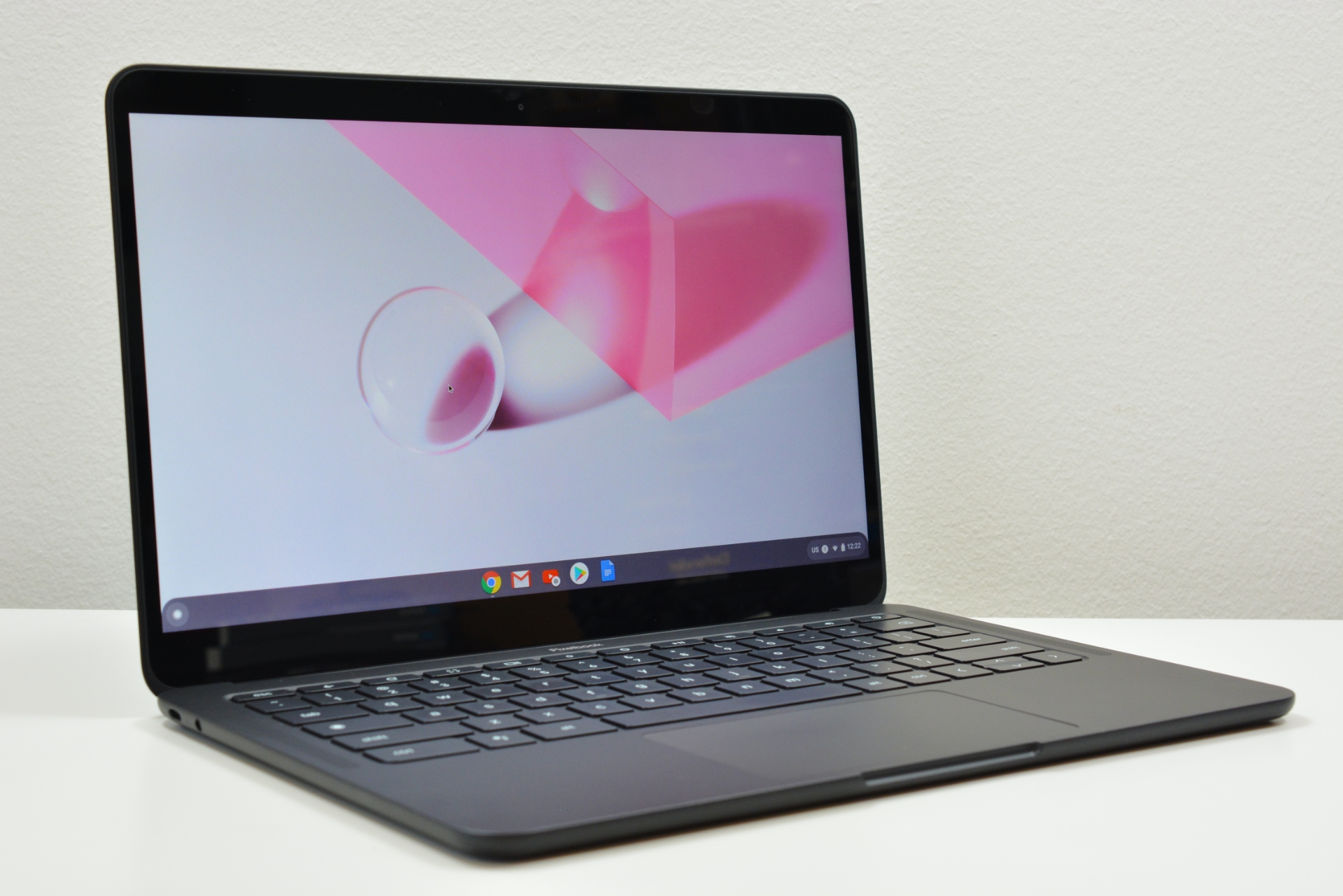 Google's relationship with its own Chrome OS hardware has been a peculiar one. While other OEMs regularly push out new Chromebooks for users with various budgets, Google continues to refresh its hardware just once a year. Until now, those updates have produced luxury Chromebooks with varying degrees of popularity: 2017's Pixelbook won many hearts with its unique design, versatility as a convertible, and solid performance, while 2018's Pixel Slate tablet was a decided flop.
For 2019, Google is again trying something a little different: the $649 Pixelbook Go, a more modest Chromebook with a starting price that many will find easier to stomach than the Pixelbook's $999 price tag. While the Pixelbook Go may not be a luxury device, it's not a dirt-cheap Chromebook either. It sits in a category of higher-end Chromebooks that's getting more populated as companies including Acer, Asus, HP, and others make more capable devices.
The biggest draw of the Pixelbook Go is that it's made by Google, and since we saw the company bring so much to the table with the Pixelbook, it's fair to assume that the Pixelbook Go would offer something inherently Google-y that other OEMs can't match. The company is hoping that X factor (along with a more affordable starting price) will bring Chrome OS lovers flocking to the Pixelbook Go. But after using the Pixelbook Go for almost a week, I found that, like most things in the consumer tech world, the reality is not that simple.
Look and feel
Chassis and display
At launch, it was easy to compare the Pixelbook Go to a MacBook in style, but Google's new laptop feels noticeably different from Apple's signature laptop. Both are minimalist in their own way, and they share a scarcity of ports—the Pixelbook Go only has two USB-C ports (both of which support charging, data transfer, and display output) and one 3.5mm headphone jack.
| SPECS AT A GLANCE: GOOGLE PIXELBOOK GO | | | |
| --- | --- | --- | --- |
| | As reviewed | Worst | Best |
| Screen | 13.3-inch FHD (1920 x 1080, 166ppi) touchscreen | 13.3-inch FHD (1920 x 1080, 166ppi) touchscreen | 13.3-inch 4K (3840 x 2160, 331ppi) touchscreen |
| OS | Chrome OS | | |
| CPU | Intel Core i5 | Intel Core m3 | Intel Core i7 |
| RAM | 8GB | 8GB | 16GB |
| HDD | 128GB eMMC | 64GB eMMC | 256GB eMMC |
| GPU | Integrated Intel GPU | | |
| Networking | Wi-Fi: 802.11 a/b/g/n/ac, 2x2 (MIMO), dual-band (2.4GHz, 5.0GHz), Bluetooth 4.2 | | |
| Ports | 2 x USB-C, 1 x 3.5mm headphone jack | | |
| Size | 12.2 x 8.1 x 0.5 inches (311 x 206.3 x 13.4 mm) | | |
| Weight | 2.3 pounds (36.8 ounces) (1.04kg) | | |
| Battery | 47Wh battery | 47Wh battery | 56Wh battery |
| Warranty | 1 year | | |
| Price | $849 | $649 | $1,399 |
But the similarities stop there. Magnesium makes up most of the Pixelbook Go's chassis, giving it a pleasant yet strange feeling in your hands. It doesn't quite feel like metal, but it also doesn't quite feel like a plastic laptop. It lies somewhere in-between, but thankfully that limbo doesn't make it feel cheap. On the contrary, the Pixelbook Go has a build quality that I'd expect in a mid- to high-end laptop. The lid had a slight bit of flex, but the chassis itself doesn't flex at all, and the unique texture of its ribbed bottom keeps the device in place on a flat surface without being distracting.
Google outfitted the Pixelbook Go with a 13.3-inch 1920 x 1080p touchscreen that seems just fine for a Chromebook like this at first blush. However, a few things could be improved or changed based on our usage—first and foremost being the incessant glare that appears when any amount of sunlight falls on the display. It was frustrating to work on the Pixelbook Go in my home office in the same position I test other laptops because that spot gets so much natural light. Also, the display has chunky bezels hugging its top and bottom that I wish had been shrunk—doing so may have allowed a 16:10 or a 3:2 panel rather than the cramped 16:9 panel we got on the Pixelbook Go.
The display also didn't need to be a touchscreen because the Pixelbook Go is a laptop, not a convertible like the Pixelbook. Admittedly, some users may find it easier to navigate Android apps on a Chromebook using their fingers, just like they would on an Android smartphone. However, touchscreens just aren't as comfortable to use on laptops as they are on convertibles and I generally find no use for them on the former devices. It's also disappointing, and slightly confusing, that the Pixelbook Go's screen can take input from your finger but not from a stylus like the Pixelbook Pen.
The top-tier configuration of the Pixelbook Go is the only one to have a 4K panel, and that's not the only perk that increases the value of the $1,399 model. The specs on that model are also better: Core i7 processor, 16GB of RAM, and 256GB of storage—arguably more power than anyone needs in a Chromebook. Nevertheless, aside from the 4K display and internal specs, the top-tier model is identical to all the other Pixelbook Go models in hardware design.
Keyboard, trackpad, and features forgotten
We'll get into the consequences of that fact after we discuss the keyboard and trackpad. The keyboard has a standard Chrome OS layout—the Launch key replaces the Caps Lock key and the top-right Delete key is slightly smaller than I would like. The page navigation keys are also slightly narrower than normal, but they won't impact most users too much.
Google claims the new, backlit keyboard on the Pixelbook Go is quieter than that on the Pixelbook, and that's true to a degree. The keycaps have a softer sound when you click them, so you don't get any satisfying click noises out of them. But the Pixelbook's keyboard wasn't all that loud to begin with, so I see this as a minor improvement rather than something that will have a massive impact on the number of people buying a Pixelbook Go.
It seems Google tried to translate the Pixelbook's uniquely Google-y design for a more affordable device, and I think the company did so to a certain extent. The Pixelbook Go has the same aesthetic as the Pixel 4, which, depending on your personal preference, could be a great thing. If you like thin-and-light laptops with few frills, the Pixelbook Go will be right up your alley.
It also makes for a solid mid-range device, but its validity as a high-end device is debatable. I'm disappointed that the top-tier configuration only adds better specs and a 4K display. I wish Google gave users more for their money and included more hardware differences like pen support or a fingerprint sensor (remember the Pixel Slate had one?) in the $1,399 model. Plenty of Windows laptops in the $799 to $999 range include such features—and even some competing Chromebooks in that price range include them as well.
Google's rationale for this is that it wanted to make the Pixelbook Go more affordable in every way possible—not only for consumers to buy, but for Google to make. Doing so meant stripping out any features that Google felt were unnecessary to on-the-go use and refactoring features of the Pixelbook that were fan favorites, such as the keyboard. We could debate the usefulness of certain features on an ultraportable until we're blue in the face, but it doesn't bode well for the Pixelbook Go that other Chromebooks in the same price range are more capable.
Take the Acer Chromebook Spin 13, our current favorite luxury Chromebook—while it's not as thin or light as the Pixelbook Go, it can be outfitted with similar specs, includes a stylus that lives in its chassis, has an FHD+ display with a 3:2 aspect ratio, and offers solid performance all for around $725. You'll get more for your money, if you can sacrifice a bit in the design department, than you would in our $849 Pixelbook Go review unit.
Performance
Our $849 Pixelbook Go review unit runs on an Intel Core i5-8200Y processor, 8GB of RAM, and 128GB eMMC storage. Those are the exact same specs of the $999 Pixel Slate that we reviewed last year. When asked why the device has 8th-gen CPUs rather than anything newer, Google representatives only said that they opted for 8th-gen, Y-series processors so the Pixelbook Go could have a fanless design just like the Pixel Slate had.
In addition to keeping the Pixelbook Go thin, a fanless design also minimizes heat and noise. In my time using the Pixelbook Go as my primary laptop, I never felt it get more than a touch warm, even while running benchmark tests. It also produces little to no noise, making it an even better on-the-go device (there are no whirring fans to disturb those around you in a coffee shop, a noticeable difference between the Pixelbook Go and the Acer Chromebook Spin 13 that I referenced earlier).
The Pixelbook Go performed almost identically to the Pixel Slate, making it a powerful Chrome OS machine but not always more powerful than the original Pixelbook or even other high-end machines like the Acer Chromebook Spin 13. Depending on what you plan on using the Pixelbook Go for, you may not need to upgrade to a Core i5 model. Having used Chromebooks with all levels of processors from Pentium to Core i7, I know I'd be able to use our Core i5 review unit as an on-the-go laptop very easily with little to no disruption in my workflow as far as performance is concerned.
In fact, I could probably use the base, Core m3 model without sacrificing much, and in general I recommend Core m3 Chromebooks to most users. If your goal is to use the Pixelbook Go as Google intended—a Chrome OS laptop built specifically for on-the-go use—the Core m3 option will have enough power to run a number of Chrome tabs and Android apps simultaneously. The base model is made even better by its 8GB of RAM—the most affordable Chromebooks typically come with just 4GB of RAM, which is only suitable if you're not doing a lot of multitasking, or can withstand the machine being less efficient in that area.
We should also mention the predicted update schedule for the Pixelbook Go: while the timeline is still being finalized, Google estimates it will push regular updates to the Pixelbook Go (and other Amber Lake-based Chromebooks) through June 2026. That falls roughly in-line with Google's blanket rule that "hardware platforms" will receive 6.5 years of Chrome OS updates before the company essentially forces them into obsolescence (from a software perspective). You can still use Chromebooks that are past their AUE date, but they won't get the newest software and firmware features, nor will they receive technical support from Google.
Battery life
Google also wanted to improve upon the original Pixelbook's battery life and it did so in the Pixelbook Go. The new laptop lasted an average of 722 minutes, or about 12 hours, on our Wi-Fi test, and an average of 369 minutes, or just over six hours, on our webGL test. Regardless of how you're using the Pixelbook Go, you can safely expect at least one to three hours more battery life than you'd get when using the original Pixelbook, which is a solid improvement. It's also convenient that both of the Pixelbook Go's USB-C ports support charging, so if you already have a USB-C device in your arsenal, you won't have to carry around an extra charging cable when you're out and about.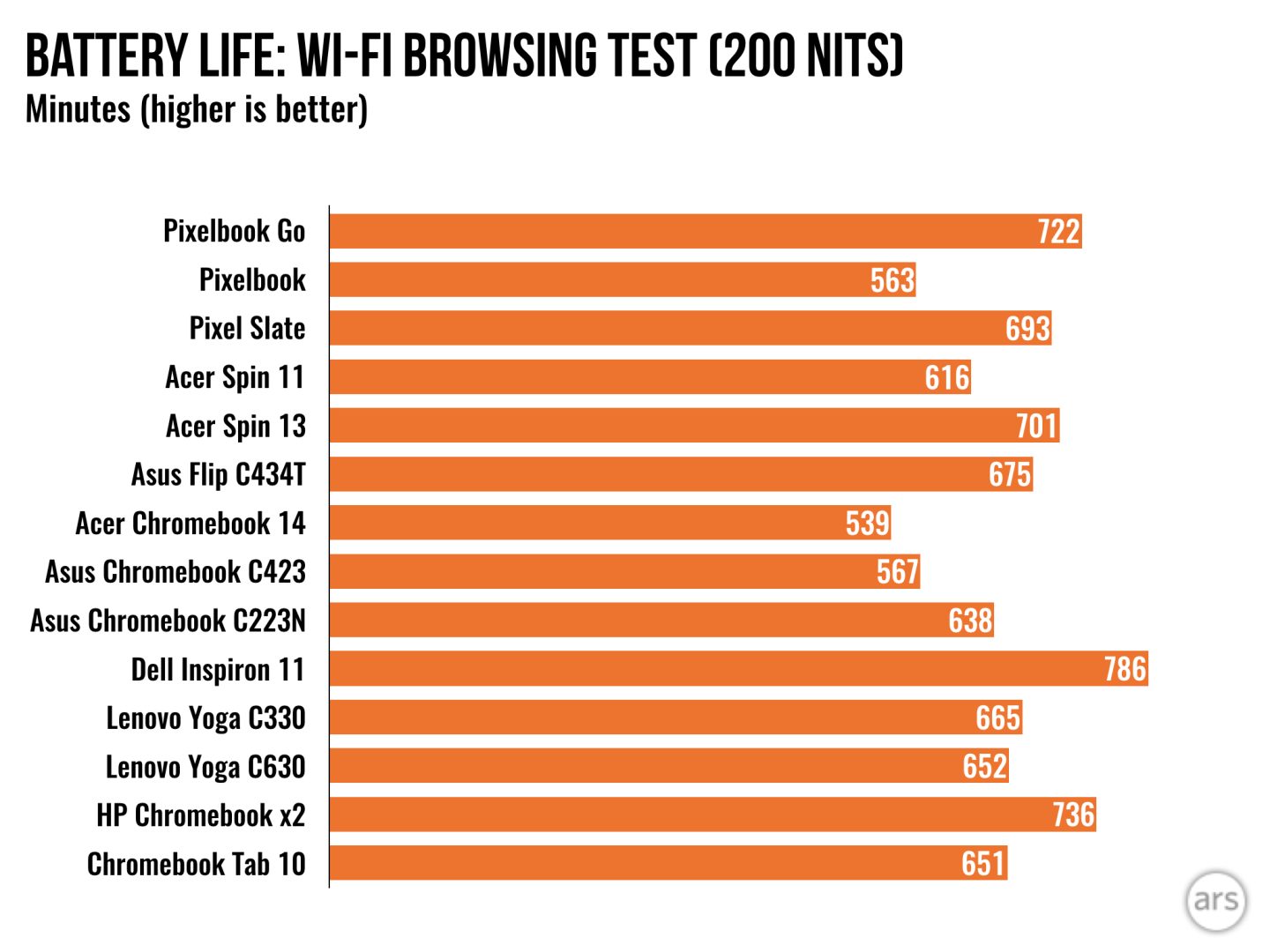 A new addition that doesn't stand out
Chromebooks aren't just the default laptop you get when you only have $250 to spend. The time where Chromebooks fit into that small box has passed, and the Pixelbook Go adds to what is becoming a large subsection of Chromebooks that are designed for demanding work primarily done in a browser or whilst connected to the Internet. There's no shortage of $599 and up Chromebooks, and the Pixelbook Go, while appropriately placed in that category, doesn't do much to stand out from the rest.
The two most unique things about it are its Google-y design and the fact that its base model has 8GB of RAM. The latter is an easy pro for the Pixelbook Go, but the former is more nebulous. Design is ultimately subjective, but it's likely that those who love Google's design language will believe the Pixelbook Go to be superior to most other Chromebooks in terms of hardware. I don't think it's superior to all, but I do think it's one of the more elegantly designed Chromebooks you'll find today.
Ultimately, that minimalist design branded with a little "G" on the lid is what you're paying for because the rest of the Pixelbook Go is average. It performs well in every way you'd expect, but it doesn't it do anything extraordinary. I consider that acceptable for the $649 model, but that doesn't make it the best value Chromebook for the money (you can get an Asus Chromebook Flip C434T with identical specs for about $625). Price justification becomes even more difficult when you consider the higher-end configurations of the Pixelbook Go.
I wish Google had considered other ways to make the top-tier, $1,399 Pixelbook Go more valuable because there are plenty of ways to do so—all it would have had to do is look at the competition. Unlike Apple with macOS and MacBooks, Google doesn't have a monopoly on Chrome OS, so the Pixelbook Go has to compete with a bunch of other Chromebooks that offer more features and perks at similar prices.
That competition won't matter to Google hardware enthusiasts, but it's certainly important to Chrome OS enthusiasts looking for the best device for their needs and budgets. And after using the Pixelbook Go for nearly a week, I found myself wishing for a Pixelbook 2.0—I wish Google had come out with two new devices this year: the $649 Pixelbook Go with only two configurations (Core m3 and Core i5) and an updated Pixelbook priced at $999 or more with all of the things we loved about the original, plus new features and internals. Maybe we'll get that in the future, but for now, those considering the Pixelbook Go should only look closely at the two most affordable options. Otherwise, look to the original Pixelbook if you're ready to drop $999 or more on a Google-made Chromebook.
The Good
Thin-and-light, minimalist design.
Comfortable, backlit keyboard.
Good performance.
Base model has 8GB of RAM.
Increased battery life when compared to original Pixelbook.
More affordable starting price when compared to original Pixelbook.
The Bad
Glare-filled screen.
16:9 screen aspect ratio.
No fingerprint sensor or pen support.
No microSD card.
The Ugly
Too expensive for what you get past the base model.
Ars Technica